Leaving Austin, Texas was bittersweet. I had enjoyed my time with my friends, yet I was ready for more adventures. I also wasn't heading towards anyplace where I knew someone, so I was feeling alone, the fear emerging as I headed onto the long highways of Texas. It took work, but I kept the fear at bay.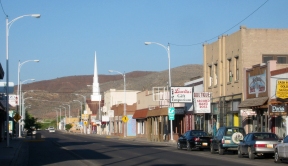 New Mexico was my destination. I had heard of a town called Truth or Consequences, named after a popular radio show in the 1940s and 1950s. The town had changed it's name for the sake of a contest. I also knew the place I was searching for, a hostel-like accommodation, the Riverbend, that had work exchange possibilities, with hot springs, on the Rio Grande.
The drive was interrupted by car issues. In the middle of nowhere-ville, Texas, my car started to die. I would pull over and wait, and it would start up again. I could go only so many miles before the process repeated itself. Okay...the next town is only 150 miles away...it was nerve-wracking to say the least. Trucks flew by me, and not one person stopped. Eventually, I made it to the next town, to a mechanic that was willing to look at it the next day.
At my hotel, I called Ron, my trusted mechanic in Boston. I described the situation and he diagnosed it on the spot. "Bring it in.", said Ron. "Ummm, I'm Texas...I'm calling for a consult.". He laughed, and was a great support. Its been years since I left Boston and I still miss Ron. Finding a great trustworthy mechanic is such a blessing.

T or C, New Mexico
Yet, the Texas mechanic couldn't find the problem even though I had given him the information from my mechanic. The details gets foggy here, but I remember him fixing something, charging me almost nothing for his time and work, and off I went. I was so glad to have not been ripped off, because, honestly, I was alone in Texas, a single woman, and in a very small town where he could have taken advantage of the situation. He didn't. I was grateful.

Coming into Truth or Consequences was mixed with excitement and disappointment. The surroundings are breathtaking. It is a funky town, which I loved. It is run down. It is meth-lab central. The Rio Grande is not so grand. Yet, here I was. I found the funky hostel, and paid for 2 nights, and then asked to do a work exchange. In doing so, I was initially a guest so I didn't stay in the dorm, but a guest room.
At the Riverbend
Due to the dysfunction of the place, I was able to stay in the private room while I did the work exchange, whereas most went to the dorms. I missed the details of what was happening behind the scenes until my last day there. By then, I didn't care that they had wanted me to be out of the guest room and move to the dorms. They also didn't want me to leave since I was such a great worker. Ten days into it, I knew I had to leave. Dysfunction. Ugh. I crept out at sunrise to begin my drive heading towards the Gila National Forest.

Elephant Butte
Hot Springs, near
the Rio Grande
What I remember most of T or C is that I loved the funkiness. I spent hours, upon hours in the healing waters of the hot springs, alone or chatting with whomever was there. I made a few acquaintances who made my time there worthwhile, just to be connected to others, to share our life experiences, yet none became long-time friends. I hiked the mountains and along the river. I visited Elephant Butte. I was thrilled to see a body of water.
The work at the work exchange was so minimal in comparison to what I did as a career. It was mindless. I met a variety of different folks from all walks of life, of different ages. We gathered for meals and laughed and shared stories. Everyone was different, yet accepted. It felt comfortable.
Yet, that morning I was ready to leave. I snuck out at sunrise, escaping more of the 'last good-byes' and the pressure that I was getting to stay on. We had had celebration of sorts the night before, which was enough for me. I was ready for the green and lushness of the Gila National Forest, and the feel of freedom on the road that would take me there.